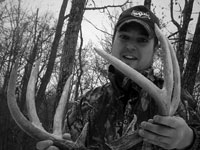 Dave Lusk
CEO of SOUTHERN OHIO OUTFITTERS and PREMIER WHITETAIL GUIDE SCHOOL
Having grown up in Southern Ohio my whole life, hunting wild game and especially big bucks just came second nature. I've taken numerous large whitetail in Ohio, and turkey not only in Ohio but other states as well. In building this foundation for harvesting large whitetail, guiding and outfitting just came to be second nature. After all this time, thousands of hours and countless days in the woods, Southern Ohio Outfitters has made its name sake as being one of the hot spots in North America to come shoot the buck of your dreams. Southern Ohio Outfitters is ranked number #1 in the state by Deer and Deer Hunting Magazine as well as receiving accolades from other sources for their big buck killing tactics. Southern Ohio Outfitters is also host to Premier Whitetail Guide School which is owned and operated by me as well, and produces top notch whitetail guides that any outfitter would be fortunate to have. Its hard to believe that as an infant, being strapped to my fathers back in deep snow, and taken out scouting would lead to all this, but it all starts somewhere. Mine just so happens to be deep rooted in the heart of whitetail country. I look forward to meeting you and making your dream hunt a reality.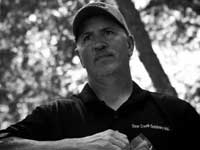 Darrell Roberts
General Manager
Darrell's background is in the field of Wildlife and Land Management and Marketing with his masters from WVU. Throughout his career, he has worked for the States of California, Ohio, and Maryland in the field of Wildlife Management. He has held the positions of Wildlife Officer, Forest Wildlife Program Leader, Research Biologist, and Public Lands Manager. Additionally, He has worked in the private sector, helping landowners with wildlife management planning and land management.
Darrell has been involved with several organizations such as NBEF (Instructor), Whitetails Unlimited, West Virginia Bowhunters Association , Ohio Bowhunters Association, The Wildlife Society, Wildlife Legislative Fund of America, Putting People First, and the Rocky Mountain Elk Foundation.
He has lectured throughout America on White-tailed Deer, Habitat Management, and on the impact of Animal Rights legislation and its effect on numerous animal industries, including hunting.
Darrell is an avid outdoorsman and hunter, an Army Veteran, a husband and father of four boys.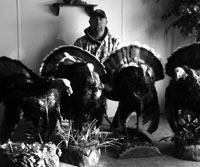 Ryan Rowe
I'm Ryan Rowe from Ohio. I've been hunting the woods in southern Ohio for 28 years as well as all across the United States. The pursuit of long beards is definitely a passion and an obsession of mine. On top killing harvesting countless birds, I have had the honor of killing a GRAND SLAM which is something I hold as a great honor of being able to accomplish.

Book your next turkey hunt with Southern Ohio Outfitters and I guarantee you will have the time of your life in the turkey woods.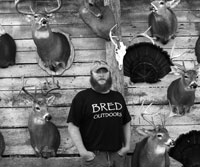 Chip Wade
I am a Virginia native, born and raised in the Blue Ridge Mountains who has 25 years of hunting experience. For me, hunting is not just a hobby, it is a lifestyle. I also have several years guiding and managing deer camps in the Midwest. I have always had a passion for the outdoors and enjoy helping others doing what I love. In addition, I am a 2005 graduate from the Pocono Institute of Taxidermy. Come hunt with us at SOO and we will make it the experience of a lifetime.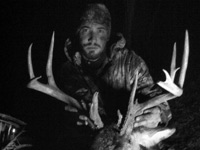 Ryan Alexander
Ever since going Duck hunting with my father at the age of 3 I've been hooked! I would sit in the duck blind with my BB gun and shoot the decoys out in the marsh. At the age of 5 he bought my first Hoyt compound Bow and we would constantly go to 3D shoots on a regular basis. When I turned 8 I bagged my first deer with his crossbow. At 13 I shot my first deer with my compound and also shot a 13 pointer during youth season with my dad the same year! Since then I have shot some great bucks and a lot of great eaters.
Hunting truly is my passion and has been for as long as I can remember. When I turned 18, I started to film my own hunts and others around me. Since then I have tons of kills on footage and 3 bucks over 150. Being in the great outdoors has really turned into a lifestyle for me. Whether it's teaching some one new or capturing the story of their hunt with my video camera, there's no place I feel more at home then out in the woods or down by a river. Every year I introduce more and more people into hunting and the outdoors, which is quickly becoming another passion of mine! I love taking other people out in the field and seeing there reactions is the best part!
Now, being 23 and working for a living, I've realized that being happy and doing what I love to do is most important to me and I need my career to be in the outdoor industry. This is my dream and a goal of mine to be a part of. I learned that it's more important to do what I love than dream about what I love to do... I am living my dream!